Laptop Motherboard Repair
Creative IT, a London-based laptop repair company, offers comprehensive laptop motherboard repair and support services for individuals as well as business users. We provide notebook motherboard repairs at the component level and we also offer complete laptop motherboard replacement and installation services at the most competitive rates.
At Creative IT, our specialized laptop motherboard repair services cover all models of laptops and notebooks including Acer, Dell, Sony, Apple Mac, Packard Bell, HP, IBM, Compaq, Panasonic, Toshiba, Samsung, Gateway, Alienware, Fujitsu, Asus and Lenovo. We have the latest BGA rework stations and reflow equipment to carry out any type of complex component level repairs efficiently in no time. With a wide stock of laptop motherboard spare parts, we can replace any faulty motherboard component with a brand new part. All our notebook motherboard repairs and replacement services carry a 90 day back to base warranty.*
Advanced Component Level Motherboard Repair Services
We offer laptop motherboard repair for the following problems such as: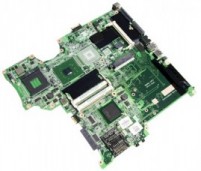 Dead laptop or no power
Laptop powers up but not booting
Distorted or corrupted graphics
Blank laptop screen or no video on screen
Blue screen of death error
Laptop USB ports stopped working
Corrupted BIOS chip
Laptop shuts down when moved
Laptop overheating issues
Random rebooting and shut down issues
Optical drive not working
DC power jack problems
Laptop keeps freezing / hanging
Nationwide Notebook Motherboard Repairs and Replacement
With in-house laptop motherboard repair facilities and equipment, our aim is to make your laptop up and running again quickly and efficiently. We offer repair support for clients all over the World. You can ship your laptop to our Lodnon location address or we will send you a prepaid UPS label to conveniently drop your laptop off to us. When the repair process is complete, your laptop will be delivered back to you securely within quick turnaround time.
To receive a free laptop motherboard repair or replacement quote instantly, please fill out our quick contact form today. If you need further assistance regarding our repair and replacement services, please give us a call on 020 7237 6805* or email us at info@creativeit.net. We are open 6 days a week from Monday to Saturday, 9:00 AM to 6:00 PM.