Panasonic Laptop Motherboard Repair
Creative IT offers professional Panasonic laptop motherboard repair services for all makes and models of Panasonic Toughbook laptop and notebook series. From home to office environments, we handle Panasonic Toughbook laptop repair needs of a wide range of clients all over USA,Canada and Europe.
Creative IT provides motherboard troubleshooting and repair services performed by certified hardware technicians and electronics engineers who are well-versed in handling onboard problems down to the component level. All the Panasonic laptop motherboard repair services are carried out in our Colorado Denver-based service center, so we can complete all repair jobs within quick turnaround time. Using advanced diagnostic equipment, BGA (ball grid array) rework station and BGA reballing system, our technicians can diagnose and fix almost all types of motherboard issues. All motherboard repairs are provided with a 90 day return to base warranty.*
Advanced Component Level Motherboard Repair Services
A damaged or faulty Panasonic Toughbook laptop motherboard displays several issues such as: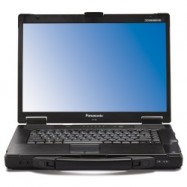 Laptop will not start up or power on
Scrambled or distorted video
System crashing or freezing
Laptop power problems
Wireless network connection issues
Laptop keeps shutting down or restarting
USB ports fail to work
System do not recognize devices
Defective BIOS chip
Laptop gets hot (overheating) and shuts down
Error messages during startup
Liquid damaged laptop
At Creative IT , we cover all aspects of Panasonic Toughbook motherboard repair. Our specialized board level replacement services include Northbridge, Southbridge and graphics chip replacement services. We also perform firmware and BIOS upgrade services. If you require an entire Panasonic laptop motherboard replacement, we will help you with cost-effective replacement solutions.
Nationwide Panasonic Toughbook Motherboard Repairs and Replacement
With mail-in Panasonic laptop motherboard repair services, we offer flexible repair solutions for our clients nationwide. To make your laptop drop off convenient and safe, we will send you a FedEx prepaid laptop box. You can also choose to drop in to our London Location anytime during our office hours. We are open 6 days a week, Monday - Saturday 9:00 am - 6:00 pm.
To get a free Panasonic laptop motherboard replacement quote, please fill out or quick contact form or email us at info@creativeit.net. For more Panasonic laptop motherboard repair support, call us on 020 7237 6805.*