Compaq Laptop Motherboard Repair
Whether you require a Compaq laptop motherboard repair service for your office or home portable computer, Creative IT will be happy to assist you. We, at Creative IT (UK) Ltd, are a reliable Compaq laptop repair company offering specialized motherboard troubleshooting and repair services for various models of the Compaq laptop and notebook series including all Compaq Presario and HP Compaq notebook PC models. We service a wide array of clients all over the United Kingdom, Europe,United States and Canada.
No matter what kind of motherboard problems you are facing, such as bad capacitors, intermittent power issues or dead laptop or slow system boot up, we have the right Compaq laptop motherboard repair and Compaq laptop motherboard replacement solutions to meet your requirements. Our qualified electronics engineers and hardware technicians have extensive experience in troubleshooting and fixing a wide range of component level issues, both common and complex. We have the latest motherboard repair workstations to provide you with efficient BGA rework / reflow and BGA reballing services.
Advanced Component Level Motherboard Repair Services
With professional Compaq notebook motherboard repair services, we can fix any kind of laptop problems such as: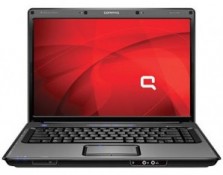 Laptop battery is not charging
Laptop won't turn on (no power)
Laptop overheating problems
General video distortion issues
Notebook won't boot up, only a black screen
Liquid spilled over laptop
Laptop shuts down randomly
Wi-Fi network connection issues
Laptop is powered on but no LED light activity
Optical drive not working
BIOS chip error issues
Laptop randomly rebooting
Notebook freezing and crashing
Motherboard with failed graphics chip
Blue Screen Error Codes (STOP Codes)
With professional Compaq laptop motherboard repair solutions, we can get your laptop back up and running quick and efficiently with least downtime. We have a wide array of adapters, graphics chip, power cables and other system board spare parts to provide you with quality Compaq laptop motherboard replacement services. We also provide firmware and bios upgrade services.
Nationwide Compaq Notebook Motherboard Repairs and Replacement
All our repair services are backed by a 3 month warranty for parts and labor. We will dispatch a UPS prepaid laptop box to effortlessly drop off your laptop to our store location.*
Just give us a call on 020 7237 6805* and our technical staff will assist you with your Compaq laptop motherboard repair requirements. You can also request a quote by sending an email to us at info@creativeit.net. Our business hours are from 9:00 am to 6.00 pm Monday through Saturday and Bank Holidays