Alienware Laptop Motherboard Repair
Creative IT offers specialized Alienware laptop motherboard repair services for a wide array of companies and home users across USA Canada and Europe. The full range of Alienware laptop repair and laptop motherboard repairs we provide includes expert diagnosis, repair and replacement services. We provide complete Alienware laptop motherboard replacement services at the most competitive rates.
Our Alienware laptop motherboard repair service covers all models of laptop and notebook computers of the Alienware series including Area 51 M7700, Aurora M7700, Area 51 M9750, Area 51 M5550, Aurora M9700, Aurora M7700A, Area 51 M15x, Area 51 M17x, Area 51 M17, Area 51 M5700, M3450, M5750, M3400, M5500 and Area 51 M5790 notebook models. We have specialized tools and equipment to carry out even complex board level repairs quickly and efficiently. With most advanced BGA rework stations and BGA reballing system, we can troubleshoot and fix any kind of graphics chip / graphics processing unit failure and other chip level problems. We offer quality repair and replacement of power controller ICs, DC power jack, capacitors, fuses and other onboard components. In addition to motherboard repairs and replacement services, we perform firmware and bios upgrade services.
Advanced Component Level Motherboard Repair Services
With professional Alienware notebook motherboard repair services we can resolve any laptop issues including: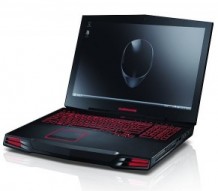 Completely dead laptop
Laptop is powered on but no LED light display
Optical drive not working
System keeps freezing
Laptop continuously beeps while start-up
Laptop battery is not charging
No images on screen
System failed to detect a wireless network
Liquid spillage issues
Laptop keeps restarting
Laptop overheating problems
Nationwide Alienware Notebook Motherboard Repairs and Replacement
If your laptop motherboard is severely damaged and the repair process is not possible, the next option is to replace the entire board. At Creative IT London, we offer genuine Alienware laptop motherboard replacement solutions that suit the make or model of your laptop computer. We can also provide you with a free replacement quote if the repair is not promising. You can either ship your laptop to our store or we will make arrangements to send you a UPS prepaid box to make a convenient shipping of your laptop to us. A 90 day parts and labour warranty is ensured to all our Alienware laptop motherboard repair services.*
To schedule an Alienware laptop motherboard repair or to know more about our services, please give us call on 020 7237 6805* or email us at info@creativeit.net. You can also visit us anytime Monday through Saturday, 9:00 am to 6.00 pm.